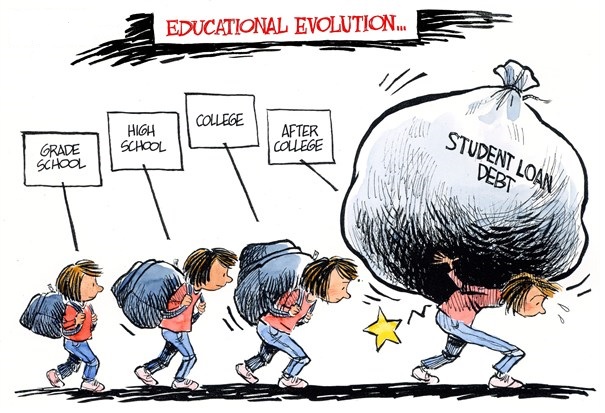 About to pack up and head off to college?  Here are some sobering statistics:
more than 70% of college students borrow for college
the average undergraduate leaves college with $37,000 in loans
These figures don't include the bank of mom and dad – "loans" often forgiven.  If included the numbers of borrowers and the debts incurred would be higher.
It's therefore important to shop for college loans armed with an understanding of the marketplace.  Here are some things to consider:
FEDERAL STUDENT LOAN:  The Direct Loan offers the lowest interest rate and safety features designed to keep borrowers from defaulting.  To qualify a student must be at least a part-time college student and should complete the Free Application for Federal Student Aid ("FAFSA").
SUBSIDIZED vs. UNSUBSIDIZED:  The Direct Loan comes in two forms.  The government covers the interest on the former while the student is in school and during the six-month period thereafter.  In contrast a borrower with an unsubsidized Direct Loan is responsible for all interest payments.  The formulas underlying FAFSA will determine if a student is eligible for a subsidized Direct Loan.
INTEREST RATE:  The interest rate is tied to the 10-year Treasury and adjusted annually.
PLUS LOAN:  While the Direct Loan is aimed at students the PLUS Loan is aimed at parents.  The program (launched in 1980 to help middle-class and upper-middle-class families send their children to expensive private colleges) allows a parent to borrow the difference between a college's cost of attendance and student aid received in grants and federal student loans.  Underwriting tends to be easy.  The current interest rate is north of 6% and on top of that is a 4.3% fee.  10%+ total borrowing cost?  Ouch – that's downright usurious!
PRIVATE LOANS:  These loans are aimed at students although lenders typically require borrowers to have a parent (or other, ahem, "responsible adult") co-sign.  Credit unions and major banks have been the typical players in this space.  Online lenders have entered the field and are gaining share.